Beefing Up Brand Awareness
Case Study for the INK-O-DEM® Cartridge Refilling System
THE CHALLENGE: To increase product visibility among top 50 retailers in the US.
THE STRATEGY: Cygnet Midwest used print advertising in trade journals, direct mail campaign and complimentary website launch to create high visibility in the key target. We developed the entire campaign and launched in a two week period to correspond with a roll-out by one of the Nation's top retailers. The campaign theme carried through at national trade shows including the PMA.
THE CREATIVE: Our design team created a humorous and eye-popping campaign all based on the theme of the "Cash Cow". The theme was able to transcend all media in the initial roll-out. Subsequent variations including "Got Ink?" and "Leaving Las Vegas" milked the cow through to trade show advertising and follow-up media to renew messaging. In addition to traditional media, we produced and direct mailed memorable heifer-spotted ink cartridges with messaging to reinforce product identity to targeted prospects, as well as gaining a spot as the sponsor of the "Retailer of the Year" Award.
GREAT RESULTS: Our client successfully initiated pilot programs in the 3 top retailers in the nation as well as programs in regional retailers in the Midwest and Texas, within a 6-9 month period. The client also increased their installed units with an existing leading national retail customer to 75% of all outlets.
If you would like more information about how Cygnet Midwest can help further your marketing projects, or you would like to speak to someone about this type of project in more detail, please contact us below. Someone will get back with you shortly.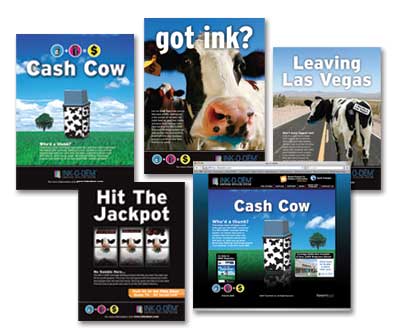 Want to meet? Call us.
Whether you're looking for a new firm, or just exploring the waters. Let's sit down & discuss your needs.
Have a project in mind?
Set up a time to discuss your project's scope. We want to help you make your project the best it can be.
Quick question?
Whether it's a quick question or you're looking to solve a problem, we're available to chat. See how we can help.