BLOG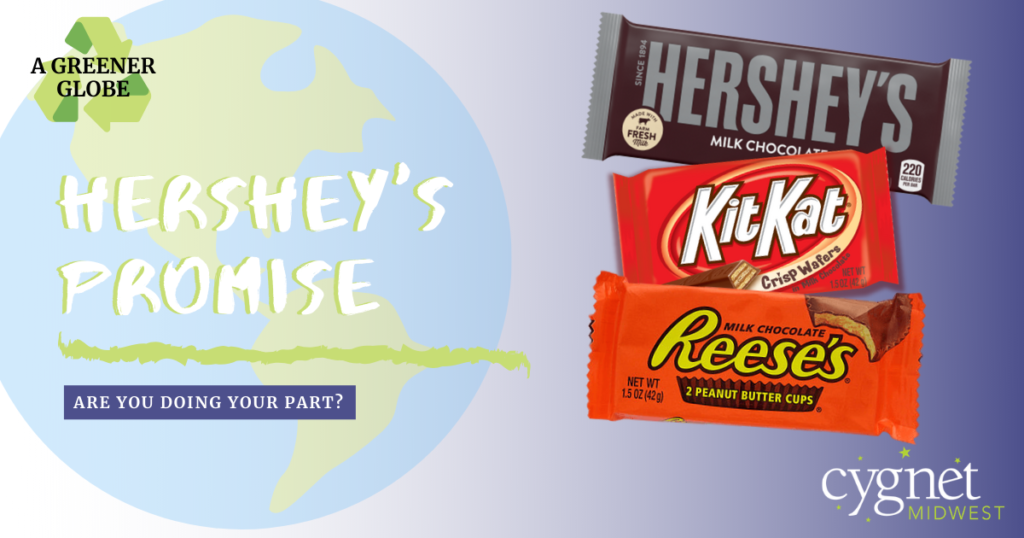 With Halloween right around the corner, who could be a more fitting company for our #GreenerGlobe blog this month than one of America?s favorite chocolate brands, Hershey?s! From the start, nearly 125 years ago, Milton Hershey founded Hershey?s with the intention of helping others and spreading positivity. The company has made big movements in many areas to help with issues that not only affect us now, but generations to come. These efforts made by Hershey?s are known as the Shared Goodness Promise.
In 2016 Hershey?s announced their ?25 by 25 goals? which were set in place to reduce their footprint. These goals have committed Hershey?s to reducing their greenhouse gas emission, water usage and waste by 25%. Another part of these goals is to reduce packaging by 25%. If Hershey?s plan goes as intended, they plan to reach these goals by 2025. Let?s take a look at the progress they?ve made thus far in their journey to better our planet.
Greenhouse Gas:
In order to reduce greenhouse gas emissions in their manufacturing facilities and with transportation, Hershey?s is constantly upgrading to improve efficiency. With investments on things such as lighting systems and new machinery, they have had a 1.2% reduction in GHG emissions versus 2015.
Water:
Although Hershey?s products themselves do not require a lot of water, the manufacturing of them do. Once they added water metering to measure the amount of water consumed in their Reese?s plant, there was a 46.8% decrease in water usage in 2018 compared to 2015.
Waste:
Hershey?s has a goal to eventually send zero waste to landfills. In 2018 they continued working their way towards this goal reaching 15 facilities with zero waste. This helped to result in a 23.6% reduction in waste from 2015.
Packaging:
After reducing the weight of each candy wrapper by .05 grams, the weight added up to enough to fill 11 tractor-trailers, save 1,957 trees, reduce aluminum use and save enough electricity to power 56 homes each year. With this initiative and others, Hershey?s has reduced packaging by 19 million pounds versus 2015.
Want to read more on Hershey?s green efforts? Check out this link to their 2018 sustainability report. https://www.thehersheycompany.com/content/dam/corporate-us/documents/pdf/Hershey-SR-2018.pdf
Whether big or small, there are green actions that can be taken not only at work, but also at home to do your part in helping our planet. Stay tuned for next month?s #GreenerGlobe post.